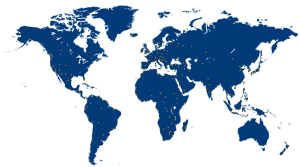 When travelling overseas, Express Care Movers can help your pet to avoid, or have significantly reduced quarantine.
All international destinations (and Hawaii) have strict rules surrounding the entry of pets.  In most cases, travel preparations including veterinary treatments or obtaining permits may need to start months before departure.  With adequate preparation time, quarantine in most destinations can be completely eliminated, or significantly reduced.
Whether you are travelling from the USA, back to the USA, or between any other countries, Pet-Express can make your move easier for you and your pets.
With a huge network of expert handling Agents throughout the USA and overseas, Express Care Movers  can care for your furry kids throughout the world.
International Transport service options include;
Advice and "move coordination"
Veterinary advice and treatments
Veterinary & travel document compliance reviews
Pickup from home, a friend, relative or boarding kennel at origin
Travel crate
Delivery to airport and airline check-in
Flight/s
Comfort Stopovers (if required)
Boarding & Kenneling
Permits
Quarantine (if required)
Collection from airport
Customs clearance
Delivery to new home, friend, relative or boarding kennel at destination
Dedication and commitment to the welfare of your furry kids!
Advance-preparation is the key.  Speak to a Pet Relocation Specialist to discuss your relocation needs, and together we can structure a customized travel program that will benefit you and your pet.